Custom Printed - Discount at Check Out!
Ordering Business Christmas Cards with your company logo is easy!
Choose any card from our online business holiday card website or one of our cut-out front logo holiday cards. For regular cards, the logo is usually place below your selected verse.
As you go through the online order form, just upload your digital file. We will email you a proof for your review after our print department sets it up. Once you approve your proof your order will be printed and shipped out to you.
Logos will be printed below the inside verse unless you order one of our front view logo cards or tell us otherwise.
Logos can be printed in one color to match your verse or in full color.
Front View Logo Christmas Cards
Front Die-Cut Christmas Cards with Business Name
View All Holiday Greeting Cards
How to Upload your Logo!
After you choose your card and quantity you will come to the personalization page
where you can customize the inside of your card with a stock verse, custom verse, imprint and logo.
> Check off the box on the bottom right that says
ADD LOGO or IMAGES
You can then upload your file by browsing to it on your computer
or drag your logo see below: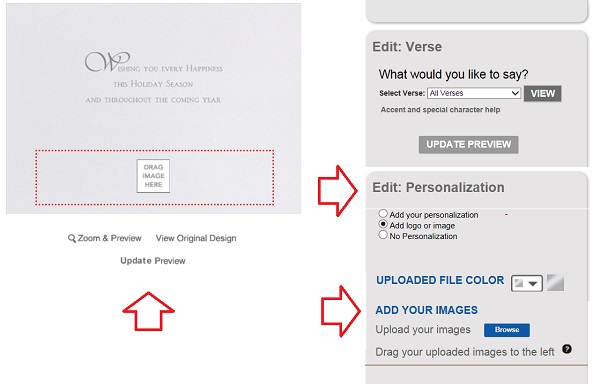 The Following Digital File Formats are accepted:
We accept TIF, TIFF, JPG, JPEC PCT, PICT, GIF, BMP

For black and white images 600 dpi or better is needed.
For color images 300 dpi or better is needed.

. TIF Tagged Image File Preferred
We recommend signing in and making an account
where your logo file can be saved for next year.
Have Questions?
1-877-290-8487
Access Code: RMJ91